A costume can be amazing whether it contains an abundance of color or a total lack of it. In fact, the contrast of a black and white costume can create a really stunning visual effect. Whether you're attending a black and white themed costume party or just not feeling very colorful this Halloween, here are some unique costume ideas to inspire you.
Illustration Inspired Edward Gorey Costumes
Take a cue from the spooky drawings of illustrators like Edward Gorey. His pen and ink drawing style produced many creepy characters that are perfect for translating into vintage inspired Halloween costumes.

Black and White Movies & TV
Get literal with the black and white theme! Paying tribute to film and television before they contained color, you can add white or gray makeup to your skin to really look the part. With a 40's or 50's costume in black, white, and shades of gray, you'll be a Film Noir detective or bombshell in no time.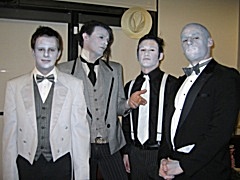 Silent Film Stars
Before black and white "talkies" and TV there were the stars of the silent screen. Recreate the legends like Chaplin or Clara Bow or be your own star. Keep mum and carry a small whiteboard with you to create your own instant silent movie.

Other Ideas