Making bleeding cupcakes is a fun little activity that kids will want to help with. It's a fairly low-sugar treat that uses lower Glycemic Index fructose insteads of white sugar, but still tastes quite sweet. There is also an alternative version to this recipe that resembles a cake donut. With raspberry jelly filling, the "donut" version is my favorite even though it's a bit more dense than a cupcake. My goal was to make a reddish colored cake without the use of artificial food coloring, but the strawberries just weren't red enough. Next time I'll try natural food coloring or a little bit of (flavorless) beet.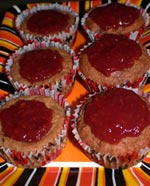 Strawberry Bleeding Cupcakes
1 jar of natural raspberry jelly (no sugar added, Trader Joe's makes a good one)
3/4 cup mashed strawberries (about 1/2 pound unmashed, organic when available)
2 cups unbleached flour (I use 1/2 whole wheat + 1/2 spelt)
3/4 cup sweetener (I used fructose but sugar works too)
2 tsp. baking powder
1/2 tsp. salt
3/4 cup applesauce ("natural" no sugar added kind)
1/2 cup non-hydrogenated margarine (I use Earth Balance)
1/2 cup non-dairy milk (soy, rice, almond, etc.)
Optional: 1/2 tsp. nutmeg & 1 tsp. cinnamon
Optional: few drops red food coloring (not used in my tests)
"Cake Donut" Variation: Increase mashed strawberries to 1 cup and decrease non-dairy milk to 1/4 cup. Or completely do away with the milk and use 1 1/4 cup strawberries!
Wash strawberries, remove leaves and stems. Chop into small pieces and then mash strawberries into goo. Preheat oven to 350F. Next, mix the dry ingredients in one bowl and the wet ingredients in a second bowl. Mix both bowls together with a fork until just combined.
Line metal cupcake pan with papers, or leave silicone molds unprepared. (If You Care liners are lined with non-chemical silicone, are greaseproof, and always peel off easily.) This recipe seems to be ideal for use with silicone pans, so use those if you have them. My silicone heart cupcakes achieved a dense donut-like feel. Fill liners just 1/3 high with cupcake batter. Add a small amount of jelly into the center of each cupcake. The more you add, the less "structured" your cupcakes will be. More gooey centered, but without a puffy, convex top. A tablespoon should do it. Add more batter until the cupcakes are 3/4 full. Bake for 35-40 minutes until the tops are getting golden and the cupcake looks solid.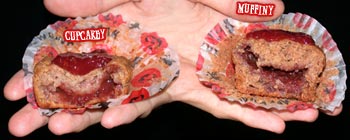 Makes 1 dozen delicious, bleeding cupcakes. Let them cool completely and then add more jelly on top as the frosting. Just a thin layer. Put a little placard next to a plate full of these that hints at their special centers: "Raspberry Blood Bites" "Red Surprise Cupcakes" or just "Bleeding Cupcakes". I made a chocolate version last year which was delicious, but the "blood" didn't stand out very much against the dark brown cake. Got any ideas?