It's nearly July and the temperatures are already soaring. Sunburns and summer vacation are the hot topics. Time to put on some Risky Business sunglasses and head for the beach or a Slip N' Slide or something… Wait… it's 100 degrees out and you're hungry for Halloween? So are we! Thankfully there's no need to wait until October for Halloween. Our motto is "spooky Halloween fun all year long" for a reason: you can have a "mini Halloween" any day of the year.
During a particularly gloomy and muggy June day, we did just that. We spent the entire day in spooky makeup and outfits, making and eating Halloween treats, decorating the house in orange and black, freaking people out and watching scary movies.

In the morning we pulled the box of Halloween decorations from the closet and decorated the living room. It doesn't take much to create an atmospheric space for the day; black table cloth, felt Halloween banner, faux carved pumpkins, a string of orange and black lights, and our favorite zombie solar light quickly set the mood.
With the house transformed into a spooky lair, we made an atomic colored brunch before heading out to get supplies. Using our handy food colors of Halloween list, we filled a bowl with all the shockingly colored veggies we had in the fridge. The purple cabbage, green bell peppers, baby carrots, and pumpkin seeds were the perfect colors and delicious too.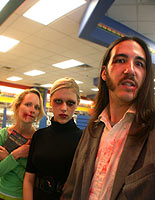 Next up was makeup and costumes! We sort of defaulted to our favorite theme of zombies, but any Halloween theme would be good. Sean reprised his favorite zombie costume and Alison and I wore some homemade Halloween outfits. For makeup we each found inspiration in the varied styles of "zombie makeup" that we've seen in countless movies and shows. Everyone wanted a different style so we just played around with our own makeup until we looked good and tore up.
Our first stop was the video store. You might think we were there just to rent a scary movie, but more than that we wanted to cause a little ruckus. Get people to laugh, ask us what we were doing, maybe inspire others to have their own mini Halloween. And we did! Most people stared and smiled, and we got into a few really funny conversations. Score. We also picked up a copy of what is probably The Best Scary Movie Ever: The Shining.
Time for more snacks! We're lucky enough to have an old time candy store in San Diego so we stopped by and picked out a handful of bulk "vintage" candies. The store also doubles as a vaudeville theatre (I'm serious) and the owner commented that we looked like "creative people" and that we should consider doing theatre. (Who would have thought a mini Halloween would have included that offer?) We also went to a health food store and got multi-colored popcorn, which actually looks just like regular white popcorn once it's popped. We didn't know that at the time, though.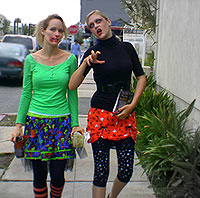 Walking around stores and on the street was a great part of the day. A lot of adults don't "bother" getting dressed up for Halloween, but we highly recommend it! It's tons of fun and gives you something to talk about with absolutely anybody. And if you happen to have a few items of distinctively Halloween clothing in your closet, mini Halloween parties are a great way to get some extra mileage out of them.
What, like I'm the only one with a closet full of handmade glow-in-the-dark Halloween skirts?

Back at home, hours later, it's time to make a dinner fit for a clan of famished zombies: Stuffed Intestines. One of our goals when we have mini Halloweens is to test out the recipes that we've dreamed up since Fall. This was our first batch of veggie pot pie Stuffed Intestines, which soon became one of our favorite Halloween dinner ideas. Sitting down to enjoy a heaping plate of those "guts" paired with a killer scary movie was a great way to end the day.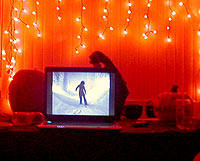 Setting up in the living room we turned on the orange string lights, fired up The Shining, and chomped down on dinner. It didn't matter that we had all seen the movie 100 times, that our makeup had finally become a smeared mess, and we were exhausted from the action of the day. We recreated some of our favorite aspects of Halloween, not caring that the calendar claimed "4 months left" until we were allowed to have that kind of fun. It was an awesome day and just the solution when you wish Halloween was longer than one measly day.
What about you? Have you celebrated Halloween in winter, spring or summer? What are your ideas for making every day Halloween?