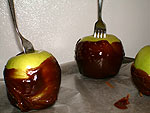 Sugar and soy, what a combo! Carmel apples are pretty easy and yummy, they just take a little patience and a candy thermometer. For those of us who don't consume dairy products, carmel (and by association, sweetened condensed milk) are usually a no-go, but here is a version we can all enjoy. Use the first measurements for a single batch, or the secondary measurements for a double batch. Seeing the measurements listed this way may look a little confusing, but the original recipe was huge so I had to cut it in half, and then figured I better include the bigger version for those of you preparing large quantities. Also, I used soy milk but other non-dairy milks (rice, almond, hazelnut, oat, etc.) would probably be delicious, too.
Dairy-Free Vegan Sweetened Condensed "Milk"
1 3/4 cups + 2 tablespoons soy milk (3 3/4 cup for double batch)
1 1/2 cups + 2 tablespoons unbleached sugar (3 1/4 cup for double)
2 tablespoons + 2 teaspoons cornstarch (1/3 cup for double)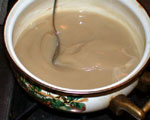 Bring the soy milk to a boil and then add the sugar. It must be carefully watched in case of burning. Now stir in cornstarch, made into a paste from soy milk taken from the 1 3/4 cups (or 3 3/4 cups), and boil for a few minuites stirring well. Remove from heat when desired consistency is reached. Makes enough for 10-12 carmel apples.
Vegan Carmel Apples
10-12 medium organic green, tart apples (20-24 for double)
1/2 cup soy margarine (1 cup for double)
2 cups brown sugar (4 cups for double)
1 cup corn syrup (2 cups for double)
1 1/4 cup non-dairy sweetened condensed milk (2 1/2 cups for double)
1. Wash/dry apples, remove stems. Insert a wooden stick into the stem end of each apple (or a fork if you're as ghetto as me).
2. In a heavy three-quart saucepan melt margarine. Stir in sugar, corn syrup and dash of salt; mix well. Bring to boiling over medium heat, stirring constantly. Stir in condensed soy milk.
3. Cook, stirring constantly, to 245°, for 12 to 15 minutes. This bit is really important, so use a candy thermometer instead of guessing.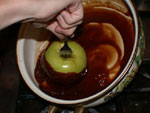 4. Remove from heat; add vanilla. Dip each apple into carmel mixture; turn to coat. Set on a oiled baking sheet (or use parchment paper); chill. Feel free to roll other yummies on the outside of the apple such as; nuts, shredded coconut, crushed cookies, dark chocolate chips, crushed dried fruit, or whatevuh.