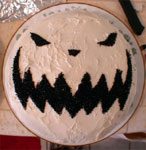 I made these for 2003 using a spice cake mix and some pumpkin in place of eggs and some oil, and it was pretty good considering it came from a mix. However, I'm being more conscientious with ingredients now so I also have a super yummy from-scratch recipe for you. This one is *slightly* low-sugar, and truly low-sugar if you go frosting-free. Because we're all busy shoveling candy into our mouths around this time of year, low-sugar recipes should be a staple in everyone's kitchens. But don't worry, it doesn't taste low-sugar unless you eat it without frosting and even then it's just not cavity-aching sweet. As a confirmed sugar junkie, you have my word.
Super Yummy Vegan Pumpkin Spice Cake (Vaguely Low-Sugar)
1/2 C soy margarine, room temperature (Earth Balance brand is the best!)
1 C brown sugar
2 egg replacers (I use Ener-G Egg Replacer or 1/2 c. applesauce, but other options abound!)
1 C fresh or canned pure pumpkin
1 tsp pure vanilla extract
2 C unbleached flour (I like spelt or whole wheat)
2 tsp baking powder (reduce to 1 tsp if using Ener-G)
1 tsp baking soda
1/2 teaspoon salt
1 tsp ground cinnamon
1 tsp ground ginger
1/2 tsp ground nutmeg
1/4 tsp ground cloves
Plus any other spices that you like
1/2 C soy buttermilk (add 2 tsp vinegar to 1/2 C soy milk and let curdle)
Preheat the oven to 350F. Grease and flour two 8 inch cake pans.
In large bowl cream the soy margarine and sugar until light and fluffy (about 2-3 minutes). Add the egg replacer and mix well. Add the pumpkin puree and vanilla and beat until incorporated.
In a separate bowl, whisk together the flour, baking soda, baking powder, salt and spices. Add the flour mixture and soy buttermilk alternately to the pumpkin batter, in three additions, beginning and ending with the flour mixture. Pour the batter into the prepared pans and bake for approximately 30 minutes, or until a toothpick inserted in the middle comes out clean. Cool for 10 minutes and then invert and remove the cakes from their pans. Cool completely before frosting.
Frosting
I'm really not in love with any particular frosting, but I have some suggestions. To make this a full fledged low-sugar desert, you can use this refined-sugar-free (yet astoundingly delicious) recipe called Date Butter Frosting. I added coconut flakes instead of extract (since that's what I had in my kitchen) and it was REALLY good. Another healthy yet decadant alternative is made with about 1 C raw nuts (cashew or whatev), 2 handfuls dates, carob or cocoa to taste, and a little fresh lemon juice and water. Oh WOW is that stuff good, and carob/cocoa goes so well with pumpkin. (You could then make the Pumpkin King design with powdered sugar.) If your idea of frosting is that "pourable" bizness, you might not appreciate these recipes. Everyone else, rejoice in the natural sweetness of dates! For the sweet teeth in the audience, and I must confess that I often fall into this category, you will want a cream cheese flavored frosting. Here's one called Tofu Cream Cheese Frosting and another that is just called Cream Cheese Frosting. (Any kind of non-dairy cream cheese will do in that second recipe: it doesn't have to be rice.) If you're new to the whole "baking without animal-based secretions" thing, don't be frightened! These recipes are all really good and taste marginally or no different than their non-vegan counterparts. You can even make your own dairy-free cream cheese and concoct your own recipe from there. Get creative, and make me proud!
To create the Pumpkin King design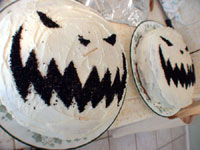 First frost your cake and let it sit for a little while so that the frosting forms a little skin. If it's very wet the stencil will stick to it and try to ruin your design. You'll then need the "Pumpkin King" stencil from Zombie Pumpkins. Trace that design onto some wax paper (or "freezer paper") and cut out the black pieces. Take your new stencil and lay it, shiniest side down, onto the top of the cake. Push lightly around the edges to get it to lightly adhere. Shake some colored sugar sprinkles (or something else if you're feeling creative) onto the cake until there is a layer of sugar on every frosted surface. Carefully peel off the stencil, taking your time with the severe angles of the mouth.
To transport the cake (because this knocks the socks off co-workers, family, kids, and party-goers alike) place some short toothpicks or thin skewers into the cake at 3-5 spaced out intervals, and then delicately mold the aluminum foil around the cake and plate.
The only way a Halloween cake could look any better would be if it were in a spooky shaped pan: