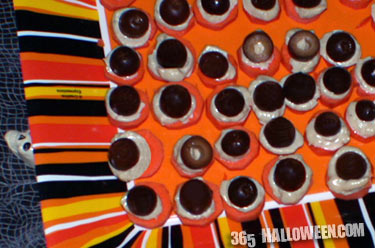 This creepy appetizer is all the things that a Halloween recipe should aspire to: very tasty, easy, quick, colorful, sorta healthy*, and it looks like something far more devious than the sum of its few innocuous ingredients. We brought these to a Halloween party in 2006 and everyone said they were delicious… inbetween mouthfuls of Wasabi Eyeballs!
Ingredients (organic whenever possible):
8 large carrots, washed & peeled
1/2 cup Veganaise eggless mayonnaise
1 can whole black olives, cut in half
4 tsp. wasabi powder**
salt, black pepper, and cayenne pepper to taste
Take your clean carrots and slice them into thick discs using a mandolin slicer
or a large knife. Between 1/2″ – 1″ will be good, depending on the amount of crunch you would like. The slices must be bigger than the olives, so you will only use the thickest portion of the carrot: about half of the uppermost carrot. You can use the leftovers to make Simple Spooky Slaw!
In a bowl mix together the Veganaise and all spices, starting out slowly and adjusting the flavor to your tastes. If you don't like wasabi, you can add any other spices you enjoy. Just remember that we want the white portion to stay pretty colorless (like the whites of a real eyeball) so try to stay away from chunky herbs or highly colored spices.
Slice all of your olives in half. You'll notice that you only get one usable end of the olive, since the other side has a huge hole due to depitting in the olive factory. I used a few of these flawed ends, but used mostly the ones without a visible hole. You might try cutting the olives lengthwise and make slitted "wasabi cat eyeballs".
Take a small spoon (or pastry bag) and add a dollop of the Veganaise mixture to each carrot. Using a spoon this is tricky, and if you're in a hurry you will end up with sloppy eyeballs like you see above. Place an olive half on each carrot and enjoy.
**Wasabi powders come in all sorts of formulations so add wasabi to taste! The kind I used has a higher than usual amount of wasabi vs. horseradish so I didn't need too much.
*A bit high in fat, but comparatively healthy, yes?