2004 was the year of the classic monsters for us and I really wanted to be Frankenstein to Sean's Mummy. After doing some Googling I found that there are really a lot of variations on the Frankenstein costume and that I would start with the basics and get creative from there.

Materials: Black thrift store blazer-type jacket, purple t-shirt, black pants, black platform shoes, neck bolts, "fishing wire", black clip-in hair strips, Halloween makeup kit, black nail polish.
I began with a black blazer (with slightly short sleeves, just like Frankie) from the thrift store and dug out a pair of tightish stretch cotton black pants and black platform loafers from my archive of office clothes. I also had a small purple t-shirt laying around that I had been meaning to reconstruct and wore that underneath the jacket. For makeup I put on a layer of foundation followed by a layer of green Halloween makeup. Brown eye shadow went onto my lids and under eye area, along with a little smudgy charcoal eyeliner. Using the same eyeliner I drew 2 little stitched wounds on my forehead. Since this is a decidedly girly version of Frankenstein I went ahead and added a little pinkish lipstick, too.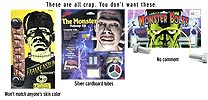 Neck bolts I had a little problem with. I visited several Halloween stores to see what the options were, and settled on the least lame looking pair. They were supposed to attach via suction cups but that didn't work at all. Would a little product testing have hurt the manufacturers? Sheesh. So I tried using spirit gum to attach the suction cups and that didn't work either.

I settled for wrapping some clear "fishing" wire around the suction cups and tying the whole thing around my neck, which was pretty annoying and increasingly painful as the night wore on. The pairs of Frankenstein bolts that are supposed to attach via spirit gum were not stocked in any stores in my area, and in hindsight I would have just ordered the damn things from the Internet.
For my hair I went totally unconventional with just a nod to the original mound of black hair that Frankenstein had. I put the front section up in a barrette, creating a small faux pompadour. I then clipped in 3 strips of black hair (from the Halloween store, attached via cheap clips) and pulled everything into a ponytail. The black streaks made a striking contrast on my blonde hair. And of course I painted my nails black, or rather I touched them up because I have them black for a good 2 months around Halloween.
Ta da, Female Frankenstein. Obviously I neglected to take good pictures because I wasn't that proud of this costume and the lighting at the Halloween party sucked. So, sorry about that. I had to really touch these up in Photoshop so you could see everything. And dig the hostess Michelle as Bride of Frankenstein! We didn't even coordinate that shiz on purpose. Hah, anyway, enjoy.
If you'd rather just go for a readymade Frankenstein costume, here's a few cool ones: