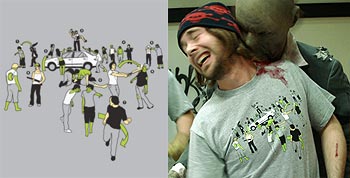 Contest time! Threadless has reprinted the In Case of Zombies t-shirt… for a second time! To celebrate, we're giving away one of these awesome shirts to a lucky reader.
To enter, leave a comment and tell us what's your zompocalypse plan? Will you head for an island or join the ranks of the undead?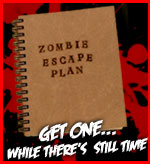 We want to encourage some creativity so one killer entry will win a Zombie Escape Plan journal to chronicle their ideas. Thanks to zombie lover and Etsy seller ChristineRenee for donating this awesome handmade journal! Be sure to check out her store for more zombie goodies. Sorry guys, but this contest sponsor flaked on us so no journals. But never fear, we're sending out surprise packs for Kevin & Rick that will be way cooler.
The shirt says 'Zombies have difficultly moving quickly', but this contest is a little more speedy. It runs from June 1 – 10, 2008 so you have 10 days to calculate a plan and share it with your fellow survivors. Good luck boils and ghouls!


We Have Our Winners!
Julie

won the grand prize of an In Case of Zombies shirt from Threadless

Kevin & Rick

each won a Zombie Escape Plan journal for their creative entries. We couldn't decide between the two so we called it a tie.
Thanks to everyone for entering!
Boring Fine Print: One entry per person (IPs are logged, no cheating!). US residents only. T-shirt winner will be chosen at random. Journal winner will be selected on creativity and effort. Threadless doesn't restock sizes so if they run out of the one(s) you want… we'll figure out a good alternative. Be sure to use a valid e-mail address so we can contact you if you win. Your privacy is important and no one but 365Halloween.com will have access to your e-mail address.