Spook your friends as Appygraph launches free
Halloween ecard collection
The No. 1 ecard app Appygraph launches
HORRIBLE new collection for you to personalize for loved ones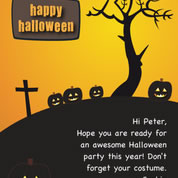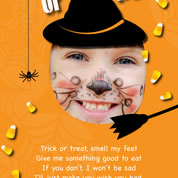 Geneva, Switzerland. 12 October 2012
–
Appygraph
, the No.1 lifestyle ecard app on the iPhone today launches its most horrible collection yet, just in time for Halloween. The hit app, which aims to become the Instagram of ecard apps, is available free to download on
iTunes
.
Appygraph captures little moments of happiness and makes it easy to build connections with your loved ones through your smartphone. The cards carry emotions much better than plain text messages and provide an instant, simple and easy-to-use alternative to traditional cards. You can also easily upgrade to collections based on a theme or season to share with friends and family. It's never been easier to tell someone you're thinking about them at milestones in your life, or to send seasonal messages when holidays come around.
The app provides a new way to send cards to friends when you're on the go. Cards can be texted from phone to phone anywhere in the world, allowing your friend or loved one to immediately receive and enjoy your personalized greeting. Your beautifully customized cards can also be shared for free on Facebook, email, iMessage and other third-party services (such as WhatsApp) allowing friends and family to enjoy your own pictures and messages included in the card.
The company was founded by Swiss couple Charles and Valérie Massin after they explored together the possibilities of combining Valérie's beautiful artwork with Charles' coding skills. The Eureka! moment for the couple was when they received a basic text message about a friend's baby, Ivan, who was healthily born on May 11th 2010, weighing 8 pounds. They felt that with new technology you should really be able to receive a beautiful ecard within minutes – and so the birth of baby Ivan gave birth to their new company.
Valérie Massin, co-founder and designer of Appygraph, explains: "My artwork has always been very important to me and popular in Switzerland, but Appygraph's availability in the app store has given me a far wider audience than I could have ever have imagined! People love that they are sending on colorful, positive, hand-drawn images made expressly for our app."
Having become the No. 1 ecard app in multiple territories, Appygraph has proven that a small developer with a passion for design can go up against the big names in greeting cards and give them a run for their money.
Charles Massin, co-founder of Appygraph, adds: "When people receive our ecards on their phone, friends and family always want to know 'how did you do that?' Our app really works like magic and we've gone from small origins to rank higher in the Apple app store than some of the biggest traditional greetings card companies like Hallmark and Disney."
The Appygraph app comes in four languages (English, French, German and Spanish) and when you first download it you receive a free selection of cards, that we will be frequently updated for seasonal occasions. You are then able to add your own personal touch to the cards by adding in your own message and image, uploaded from your iPhone, before it is sent instantaneously to your recipient. Your message font and size is changeable and with a choice of 40 different styles, you are only limited by your own imagination.