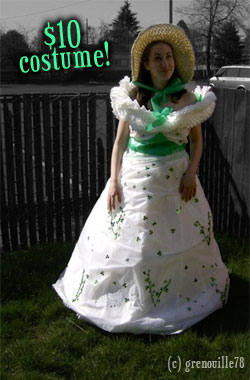 Craftster user grenouille78 made an amazing costume for Dollar Store Challenge Round 2. The rules are simple: spending $10 or less, make something fabulous and hopefully totally unexpected out of items bought at a dollar store. The entries were all amazing, but grenouille78's reimagining of the iconic Scarlett O'Hara spring dress is really inspiring. So what was used for this costume?
hula hoop
no-skid kitchen mat
green drawstring laundry bag
package of 200 coffee filters
shamrock garland
2 white tablecloths
package of garden stakes
2 water noodles

—————-
TOTAL COST= $10
As we've mentioned before, the only thing you really need for a costume is some imagination. Even cardboard boxes and the clothes from your closet can be transformed into a Halloween alter ego.
Other entries into this contest that might help jump-start your Halloween planning;
Voting closes April 13th, so there's still time to choose your favorite creation!
Have you ever made a Halloween costume "on the cheap"? If you've created a quick and affordable costume, share your ideas in the comments section below!