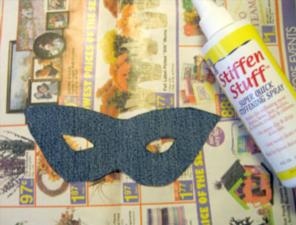 Here's a super easy tutorial that can almost instantly create a costume: a fabric mask. No sewing is required for these Carnivale/Mardi Gras style masks, just glue and the embellishments of your choice. Since it's such a quick and easy project, it would also make a good activity to do with the kids. Maybe a craft idea for a children's Halloween party?


For a full-face mask, try this tutorial with pictures for a paper mache mask. This method gives you endless possibilities and is more durable than fabric alone.
For inspiration, Faceless Autumn and Deviant Art's The Mask Club have lots of creative examples.
Have you made your own mask? Show off your creation: leave a link in the comment!