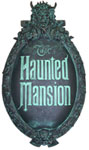 When hinges creak in doorless chambers, and strange and frightening sounds echo through the halls. Whenever candlelights flicker where the air is deathly still.

That is the time when deals are present and you should create your own Haunted Mansion with full size working replicas from Gothic Manner. Was that cheesy enough for you? That's right foolish mortals, everything from the coveted Haunted Mansion Gate Plaque, the infamous 4 stretched paintings, the all-knowing Madame Leota, and even the wallpaper and doors in the spooky hallways. It's all there and it's all on sale.
They only have one sale a year, and this is it! It's over October 2nd, so remember to act quick because some items vanish without a trace before then. As a special bonus for those who deck out their mansion with over $250 worth of ghastly goods will get a special gift. Those who get even more spooky decor will get even more free gifts.
For those of us who want to know the secrets behind the magic of the Haunted Mansion look no further than GrimGhosts.com secrets of the major effects.