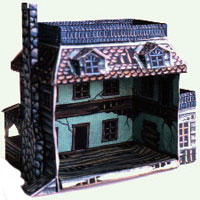 I think it's probably that other huge holiday that encourages the spirit of giving, but Ray from Raven's Blight wants to share some Halloween freebies with you anyway. In addition to the 300+ spooky paintings, illustrations, and other artwork on display at his site, he also offers an ever-growing collection of free Halloween paper crafts. Using cardstock paper, you print out his intricate artwork, do some careful cutting and gluing, and you've created your own Hearse Playset, Deluxe Coffin Giftboxes, or Zombie Mask. There are tons of designs available beyond those, including other masks and playsets, board games, dice games, mini monsters, and book covers. It's a fantastic resource for Halloweenies and those interested in "goth art". The projects range from simple to "you'll spend all afternoon on this", so you can undoubtedly find activities to keep you and your kids occupied as you countdown the last few days to Halloween.
There is also a free Haunted Cottage available from Free Digital Scrapbooking. The cottage displays your pictures in its windows and is "only the first in a larger collection you can purchase and download to create an entire spooky village". The Spooky Shack is also available for purchase.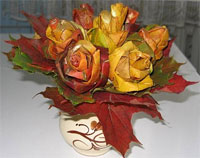 Don't have an awesome printer? How about a tree? Using this fairly simple tutorial you can learn to transform maple leaves into a bouquet of firey Autumn-colored roses. Since you can use many other materials besides maple leaves, the possibilities are endless with this idea. I would like to see a creepier version made from dark or painted leaves, swaddled in some cheesecloth or other rags. What a perfect bouquet for a Corpse Bride costume.