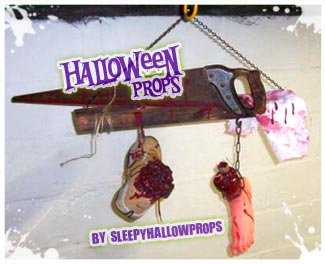 During a recent search of "handmade Halloween" auctions at eBay, I discovered a seller who is sure to impress and delight my fellow Halloween lovers. Among the pumpkin covered hair clips and collaged Halloween cards, the gory goods from sleepyhallowprops really grab your attention. The store is run by Erik, a high school student trying to make money for the summer up into October. His specialty is butchered limbs, so if you're planning on Texas Chainsaw Massacre or Saw themed decor this year then you know where to go.
Erik says, "I love Halloween and have been making props and decorating my front yard since I was little. This summer I decided I would take my skills and use them to make some extra money and to make quality homemade props that people can enjoy too. I will be making props to be regularly listed on eBay until the end of October. I am creating and sketching out new plans for more props that I will be making and selling soon. I am hoping soon to open my own Halloween prop website and selling homemade Halloween props."
PS- Only 60 days until Halloween! And Happy Birthday to our resident 365 Halloween zombie, Sean!