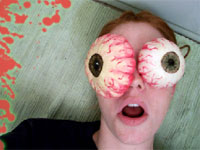 When was the last time you saw a creative use for a mini pumpkin? During Fall they're usually displayed next to a bunch of other mini pumpkins, just sitting there and looking all tiny and cute. Or being painted on Kountry Kitchen-style or being made into kid crafts… Learn how to transform the little buggers into something cooler using these tutorials. Starting with a "ghost" white mini pumpkin you can make big creepy bloodshot eyeballs. I have a feeling we'll make a bunch of these this Halloween to go along window sills, float in punch, and add interest to props.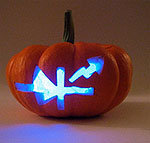 For the more technically inclined, you might enjoy taking apart a bicycle tire light and making a blinking LED pumpkin. As the tutorial mentions, this project is great for us who want to decorate our work space in October but don't have the time or desk real estate for a standard sized pumpkin. Plus, it's always fun to gut electronics.
Have you seen any interesting projects involving mini pumpkins, or have you come up with a unique way to use them in your Halloween decorating? Drop us a comment and let us know.