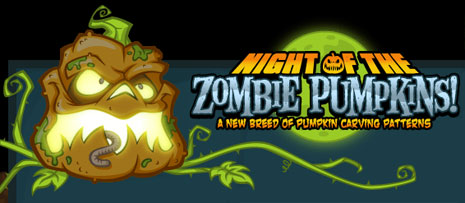 There's always something new going on at Zombie Pumpkins. Proprietor, stencil illustrator, webmaster, and zombie-wrangler, Ryan, is a man of many talents and ideas. Not content to let his site rot like an old pumpkin, it receives a steady creative transfusion every Halloween season. So what's new at the best pumpkin carving pattern site on the Internet?
Each year a new zombie-related theme for the website is chosen and for 2008 it's "

Night of the Zombie Pumpkins

". As always, there's an amazing new site design to go with it. It's seriously worth it to visit the entire site just to see how detailed and cohesive the design is.
Each year Zombie Pumpkins chooses a new charity to raise funds for. This Halloween your purchase of a "Monster All Access" membership will help Free Arts for Abused Children. (You will also get some exclusive bonus pumpkin patterns!)
Finally, the real guts of the site are the amazing

new pumpkin stencils

that come from Ryan's original illustrations. The collection is already huge, but he adds new designs all the time. Freshest from the pumpkin patch are shown below. For those about to carve, we salute you!