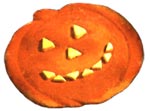 Fruit and vegetable purees, such as canned or fresh pumpkin, can be added to nearly any recipe to add flavor and nutrition. Pumpkin pie can be really delicious, but it gets served frequently during Autumn so it can get boring. Below are a few variations of common recipes that include this illustrious vegetable (as well as the added beta-carotene, potassium, and fiber) that you can whip up in no time. They're so easy, you can even get the kids involved!
Pumpkin Pancakes
This is a yummy recipe that's useful for using up leftover canned pumpkin.
2 cups unbleached flour (1/2 whole wheat + 1/2 spelt is a yummy combo)
2 Tbsp. sweetener (sugar, fructose, etc.)
1 tsp. baking powder
1 1/2 tsp. pumpkin pie spice (or more!)
1 tsp. salt
1 3/4 cups non-dairy milk (soy, rice, almond, etc.)
1/2 cup pumpkin puree (not canned "pumpkin pie")
1/4 cup applesauce or mashed banana
2 Tbsp. vegetable oil
Optional: a few drops of red & yellow food coloring
Combine flour, sweetener, baking powder, pumpkin pie spice, and salt in large bowl. Combine milk, pumpkin, applesauce/banana, and oil in small bowl. Mix well with a fork. Add to flour mixture, and then add food coloring if using. Stir just until moistened; batter may be lumpy. Heat pan or griddle, add enough extra oil to barely coat the bottom. Fry em' up! If you've got a pumpkin shaped "pancake ring" or copper cookie cutters (preferably with a handle), be sure to use that to create fun pumpkin shaped pancakes. Makes about 8 medium sized pancakes.
Pumpkin Corn Bread
1/3 cup corn oil
1 cup unbleached flour
1 cup cornmeal (try blue cornmeal!)
1 1/4 tsp. baking soda
1/2 tsp. salt
1 cup pumpkin puree
1/2 cup soy buttermilk (add 2 tsp vinegar to 1/2 C soy milk and let curdle)
1/2 cup applesauce
2 Tbsp. sweetener (sugar, fructose, etc.)
Brush the inside of a 9″ or 10″ cast-iron skillet with 1 tablespoon of the oil. Place in the oven, then set the oven temperature to 425 F. If you don't have a skillet, use a cake pan, but just grease it for now and don't put it in the oven.
In a large bowl, sift together the flour, cornmeal, baking soda, and salt. In a separate bowl, combine the pumpkin, buttermilk, remaining oil, applesauce, and sweetener. Then stir the dry ingredients into the wet until just combined.
Remove the skillet from the oven, pour in the batter, return to the oven, and bake 30 to 40 minutes, until the center is firm.
Pumpkin Cookies
This is one of my favorite cookie recipes ever. I always bring these to potlucks and parties, where they receive rave reviews. They are fantastic with chocolate chips inside, or topped with maple frosting.
1 cup unbleached sugar (or 2/3 cup fructose)
1 cup pumpkin puree
1/2 cup non-hydrogenated shortening (Spectrum brand is great)
2 cups unbleached flour (1/2 whole wheat + 1/2 spelt is a yummy combo)
1 tsp. baking powder
1 tsp. baking soda
1 tsp. cinnamon
1/2 tsp. nutmeg
1/4 tsp. salt
1 Tbsp. orange peel
Heat oven to 375. Mix sugar, pumpkin, and shortening. Stir in the rest of the ingredients. (Chocolate or carob chips are a great addition to stir in now, if you desire.) Drop by large tablespoonfuls onto ungreased cookie sheet, and bake until "light brown", about 8-10 minutes. Take cookies immediately off cookie sheet, and if desired, frost after they are fully cooled. Makes about 2 dozen smallish cookies. Also, when I double this recipe I use 1/2 cup Spectrum shortening and 1/2 cup Earth Balance margarine.
Maple Frosting for Pumpkin Cookies
1/4 cup non-hydrogenated margarine (Earth Balance brand is great)
2 cups powdered sugar
1 tsp. maple flavored extract
1-2 Tbsp. pure maple syrup (not "pancake syrup")
Heat margarine in saucepan over medium heat until "delicate brown". Mix in the rest of it, except for the maple syrup, which you add little by little, making it the consistency you so desire. Frost cookies when they are completely cooled off.