With less than a week to go until the Big Day, all things mundane seem to undergo a spooky transformation. Our pretty pumpkins become grimacing jack-o-lanterns and even offices and schools are decked with bat decorations or a few flying witches. Why not food, too? Here are a few healthy Halloween snacks to make your lunchtime into a freakishly fun meal.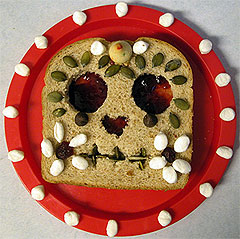 Calavera Sandwich
Celebrate Dia de los Muertos early with this cute and easy Skull Sandwich. Inspired by the symbolic skulls (calaveras) that are used to celebrate the Day of the Dead, this impressive looking sandwich uses just a few ingredients and is easy enough for kids to make. They will love arranging the dried fruit and nuts in creative patterns.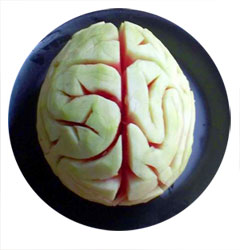 Watermelon Brain
Here's a clever 1 ingredient recipe sure to please zombies and fruit lovers alike. And how can you not love a recipe with instructions like "With a sharp paring knife, carve channels out of melon to resemble cortical folds"? Serve with a butchers knife and you've got an easy and fun to serve healthy Halloween party food.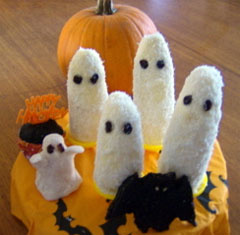 Boo-nanners
Another ridiculously easy recipe that transforms fruit into a spooky and fun snack. There are a few more healthy Halloween recipes from GoneRaw.com that feature whole foods, all of which I'm dying to try.