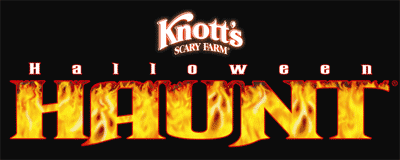 If the haunted attraction you're visiting has won the award for Best Halloween Event in the world, you know you're in for a good scare. This year that prestigious honor was earned by Knott's Scary Farm- a.k.a. The Halloween Haunt. Located in Orange County, California, this theme park gets a dastardly makeover for Halloween to create the largest and most spectacular haunt in existence. If 1,000 monsters infesting 160 acres sounds like a fun way to spend the night, you can't miss the Haunt.
We headed up on 10/4/07 and had a killer time. It was a Thursday night, early in the season, and the weather was still warm, all of which made the experience a lot better. In the past we've gone on weekends when the lines are insane: well over an hour for some mazes. If you've ever worried about going to a haunt on a "dead" night, let me highly recommend that you give it a try. The park is pretty huge and this is the first year that we were able to hit up each of the 13 mazes*. Score! Flash photography is not allowed, and although lots of people ignore this rule, I can't bring myself to ruin the experience just to take a picture. Thankfully there are some great photos already online so for those who want visuals, just follow the links.
Starting at the beginning, there's Feary Tales in 3-D. For $1 a pair you can strap on your 3D glasses and enter the heavily blacklit (is that a word?) world of Aesop's Fables. The best part about this maze is that it's visually hypnotic, and perhaps more unnerving than anything. Even the twisted characters from Aesop aren't terribly scary, so when you see a zombie version of Alice or one of the 3 bears' bed filled with a pile of guts, it comes off as surreal. Definitely worth visiting for the visuals and the twisted humor, though. Here's a gallery of photos from 2006.
Located mere yards away is The Asylum. It's teeming with patients and staff alike who range from insane, undead, and all stops in-between. Where Feary Tales is unnerving, Asylum is just plain dread-inspiring. There is a bit of black humor, which is very effective in maintaining the mood while preventing the maze from being one long downer. (The sexy nurses don't hurt either.) Unlike the fantastical premises behind many haunts and scary movies, The Asylum touches on a horror that is possible, and visitors react to it. This is considered one of the truly scariest mazes in the park, and with top notch decor, theming and acting, it's no wonder why. Here's a night vision walk-through video from 2006.
13 Axe Murder Manor has a thoroughly impressive Victorian mansion set and enough gore to fill a slasher movie. We're talking body parts everywhere, wet slashing noises, and the screams of victims echoing through the maze. Highlights for us include the ghost prop in the library and the cannibal feast. Aside from one long stretch at the end where nothing happens, the Manor is like a bloody train wreck that keeps your eyes glued to the scene. It has a few quiet moments which are also pretty spooky in their simplicity. Here's a lengthy walk-through video from 2006.
New this year, and much talked about by guests is The Doll Factory. The fiendish premise of a serial killer who turns his beautiful victims into life-size porcelain dolls mixes equal portions of creepy and sexy. They really nailed the decor, as it was unconventionally artistic and twisted; just what I'd expect from the Marionette Murderer. Both the sounds and scares were understated, which worked well to develop an eerie mood. Although the actors made for great eye candy, I would have liked to see a few more scares.
Lost Vegas in 3-D is another blacklight-heavy maze that makes use of the optional glasses. I've heard a decent amount of disparaging comments about Lost Vegas, based mostly on set quality. However, with those glasses on everything takes on a surreal, distorted appearance and I didn't notice any visual flaws. As befits its namesake, Lost Vegas is all sleaze, vices and heavy handed laughs. The actresses (strippers & waitresses) seemed out of place without any scary aspects to them. Sexy and scary can work really well together in a haunt, but when it's unbalanced then the whole mood changes. Most guests either catcalled or just looked uncomfortable as they made a full circle around the stripper pole. The props were great though (such as flesh-hungry slot machines) and the theming (a room full of dead Elvises anyone?) was the most cohesive in the park.
The mine ride got a new look this year as the spider-infested Black Widow's Cavern. I have a soft spot for train or rail-related rides, so this being a notoriously slow and unspectacular ride didn't phase me. Besides, we all know the real draw for these attractions: a chance to get off your aching feet. Mazes are great, but damn do they get tiring. There was one especially cool scene with a gigantic red-lit spider, but otherwise the Cavern is pretty ho-hum. Another useful aspect to this ride is its proximity to The Hanging. You don't get a great view, but can hear every raunchy pop culture slur they dish out.
*Pyromaniax is also new this year, but because it takes place in the watery log ride, we opted to skip it. If you don't mind getting wet, let us know what you thought of the new theme.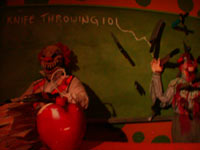 Another newbie this year is Killer Clown Kollege. It's unsurprisingly decked with lots of fluorescent colors, and in the raunch department it rivals Lost Vegas. The idea had so much potential, but most of the gags were wasted on decidedly gross and theme-poor jokes. At one point there was a room full of mutilated horses and a cheerleader "selling used jock straps to get to prom". What? Clowns FREAK some people out, and going the bathroom humor route missed a lot of opportunities to do that. Hopefully they will refine the theme in coming years.
The area of the park that houses Dark Realm- Laser Rage is along the back fence like it's being hidden. No matter the theme, this maze always seems to get the least amount of attention during the creative process. This year is no different, but at $5 a pop you can rent a laser gun to "defend" yourself against the monsters. Or just skip this maze, whatever.
Repetition has its place in horror, if used just right. The Grudge II perfectly executed this idea in a few places to build terror and make the guests wonder when the hell the big "scare" was coming. Case in point: there are 2 long stretches of winding hallway in The Grudge II, one of which is covered in huge protruding eyes, and the other lined with door and after door after door. After making a couple turns and still seeing the same thing, one begins to wonder if she's lost, losing it, or about to have the bejesus scared out of her. There are also a lot of "Grudge Girls" scattered (and sometimes swarming) throughout the maze who really earn the title "talent".
Lore of the Vampire is a classic- albeit stagnating- maze that never fails to deliver a gothic, seductive mood. The scares are few and the gore is high, but it's the subtle emoting and lush sets that do most of the work. Masks are uncommon, so actors in elegant costumes and makeup that is understated (for a "monster") rely a lot on eye contact and facial expressions. It's a whole different vibe than any of the other mazes. It's entrancing, exciting, and full of good talent.
During our last trip to the Haunt in 2004, Red Beards Revenge was an odd letdown. All the same aspects seem to be at play this year, too. The sets were elaborately decorated, and everything looked pretty good. There was lots of gore and scares, too. Something about the rest of the acting and the theming just seemed off. It definitely excels in visuals, but I think it's ultimately forgettable because a lot of the actors just aren't into it.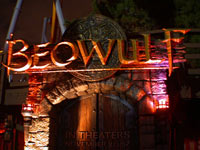 Labyrinth Into Darkness (Beowulf) is the 2nd movie that Knott's was hired to construct a maze for, but Beowulf seems an odd choice. The detail-oriented and sprawling sets give us a taste of the epic hero storyline, but the actual plot was unclear. More than a few actors were intentionally unmoving (statue style), but some of the more rowdy actors took advantage of the many hiding places. Like Red Beard, Beowulf looked good but wasn't really scary or memorable despite the great set work.
In-between all of the mazes we also found time to hit up some shows. No lines means lots of extra time to experience more of the park. The psychobilly band, The Rocketz, put on a lively show despite a small audience, which is always impressive. The Inferno was a troupe of fire eaters who did a lot of impressive simultaneous tricks. If you've never seen Zamora's Side Show, you're in for an amazing and gory treat that's 100% authentic. The "Torture King" and "Miss Electra" do things to and with their bodies that defy our notions of what's possible… and will probably gross you the hell out. It's a memorable show!
Overall, we highly recommend Knott's Halloween Haunt. It's more than a full night's worth of scares and shows, and is more impressive than any other haunted attraction you're likely to find. If you attended in 2007 what did you think of the Haunt?
For more pictures of this year's Haunt, check out sjd52878's and FrogMiller's Flickr galleries. For more official info on Knott's Scary Farm, check out their website.