Max's Top 5 Organic Candy Picks for Halloween
Halloween is no longer all about feeding kids junk food that is bad for their teeth and keeps them up all night. Parents now have much healthier options. These are Halloween treats that not only taste good but are made from the highest quality ingredients.
Max Goldberg runs an organic food blog called livingmaxwell.com. His blog focuses on his passion for organic food as a means to educate people about the organic experience and to inspire others to make positive lifestyle changes. Readers follow Max from his self-destructive and tumultuous journey to his emergence as a health and organic advocate.
His blog can be followed at www.livingmaxwell.com and on twitter at www.twitter.com/livingmaxwell.
Below are Max's Top 5 choices for organic Halloween treats on the market this year.
ANGELL ORGANIC CANDY BARS
Angell Organic Candy Bar Co-Founder Christopher Angell says it is the only certified organic and fair trade candy bar on the market. The taste is rich, and the middle is soft and chewy. There are three flavors, one of which is vegan (Dark Angell) and one of which is gluten-free (Angell Crisp).
The bars are all available on Amazon – Click for the Angell Crisp
, Snow Angell

and Dark Angell
.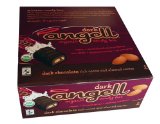 ANNIE'S ORGANIC BUNNY FRUIT SNACKS
An alternative to traditional Gummy Bears, Annie's Organic Bunny Fruit Snacks have a softer and less chewy texture. The large bag of Annie's Organic Bunny Fruit Snacks contains 24 small packs of fruit snacks that are all shaped like bunnies. The three flavors (strawberry, cherry and raspberry) are made with real fruit juice and contain 100% of the recommended daily vitamin C. Click HERE for nutrition info. The product is available nationwide. Find a store near you.
YOGAVIVE APPLE CHIPS
Yogavive Apple Chips are similar to other chips on the market, in that they taste great, but the sole ingredient in these snacks is fruit. For some of the flavored varieties, a small amount of all-natural flavorings is used.
The product, made with certified organic Fuji apples and no preservatives, is baked using a two-part drying process and then is popped to deliver a snack that is 100% fat-free and bursting with real apple flavor. The five flavors include: Original, Apple Cinnamon, Caramel, Peach, and Strawberry.
For Halloween, the small 10g bags are ideal. Yogavive Apple Chips are available nationwide. Click HERE for a store locator. They can also be purchased online
.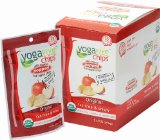 YUMMY EARTH ORGANIC FRUIT LOLLIPOPS
Yummy Earth Organic Fruit Lollipops. They come in four fantastic flavors: Mango Tango, Pomegranate Pucker, Tooberry Blueberry, and Wet-Face Watermelon. Each bag contains 15 lollipops. Yummy Earth Organic Fruit Lollipops are available nationwide. Click HERE for a store locator. They can also be purchased online.
GO FUDGE BROWNIE
Not only is the Go Fudge Brownie the perfect size for a Halloween treat but it is a 100% dairy-free and sugar-free snack. This brownie is rich and filling, possibly being one of Max's favorite desserts. It is sweetened with agave and the other ingredients include almonds, cacao, cashews, vanilla and Himalayan salt. Furthermore, the Go Fudge Brownie is raw, which means that nothing has been heated above 118 degrees, and therefore it retains all of the nutrients and enzymes. This brownie is available at health stores/organic markets nationwide and online.
This year, don't get tricked with the same old sugary treats. Have a safe, healthy and organic Halloween!
About livingmaxwell / Max Goldberg
Max Goldberg started livingmaxwell.com in 2009. His blog focuses on his passion for organic food as a means to educate people about its importance and to inspire others to live a healthier lifestyle. Readers follow Max on his journey to eating organic after a long personal battle with high-stress, depression and self-destructive behavior, including his decision to quit Prozac, an antidepressant he had been taking for more than a decade.
Max's organic food blog gives readers useful information about the best products, news, trends, and legislation, and provides interviews with the industry's leading CEOs. Max is a former Wall Street investment banker whose goal is to inspire people to change their relationship with food.
His blog can be followed at www.livingmaxwell.com and on twitter at www.twitter.com/livingmaxwell