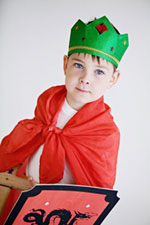 Today is a huge day for costume sales so many of us are out shopping for the perfect outfit for ourselves and/or for children. But before you make your final decision, know what lurks behind that store bought costume. Our friends at Green Halloween have some great tips to share;
Look for costumes made from 100% natural materials such as cotton. Hemp and burlap are child and Earth-healthy and make great costumes.
Wool is naturally flame retardant (as opposed to many costumes which are sprayed with chemicals to keep them "safe") and is naturally water repellent, which comes in handy if you live in colder climates.
Dress infants in themed cotton onesies with matching hats instead of in polyester costume buntings.
If you do buy a costume off the rack or from thrift or consignment stores, be sure to wash well before allowing your child to wear it for the night.
Costume jewelry and accessories such as pumpkin treat carriers often contain chemicals such as lead (a neurotoxin). If you are unsure as to whether an item is safe, have it checked by an expert or find an alternative.
Avoid masks that cover the face and accessories that go in the mouth, such as fake teeth.
Avoid most store bought face paints, even when labeled "non-toxic". An easy, make-your own recipe can be found in our new book, Celebrate Green.
By Corey Colwell-Lipson, Green Halloween founder & director
Copyright 2008, Green Halloween
Be sure to visit the Parent's section for more green costume tips and links to green online costume retailers.
Cute green costumes for kids that we dig:

cotton animal costumes

cotton cloaks