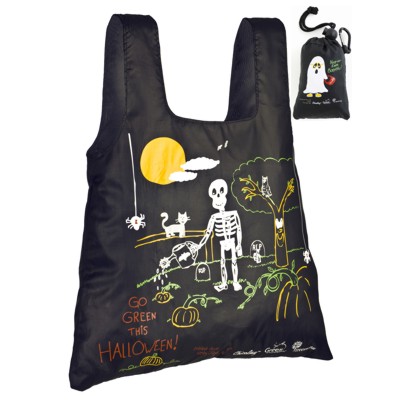 Reusable bags are probably the most popular way that people are "going green" right now. Everybody has them! It's no wonder because it's a simple switch and it saves tons of resources, energy, and pollution. Trick or Treat Bags are generally reusable, but disposable plastic bags are also a popular choice.
This year you have another option for a reusable trick or treat sack from ChicoBag. 12 year old Estefania won an ChicoBag art contest and her design is on their limited edition Halloween bag. Even if you're not going out to collect candy this year, the bag would make a good lunch tote for work or school or as a regular old reusable shopping bag.
Perhaps the sweetest part is that ChicoBag donates 10% if the proceeds. The money goes to Treeswing, which are the fine folks behind the amazing eco-friendly, family oriented GreenHalloween.org. It's an awesome organization and besides "greening" Halloween, they're doing a lot to bring imagination back to our beloved holiday. Check out Green Halloween for some great tips and fun ideas.