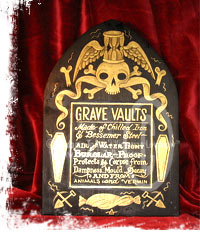 If you've never made the acquaintance of Madame Talbot, you are in for a treat. Madame Talbot's "Victorian Lowbrow" is like an e-curio cabinet, brimming with "one-of-a-kind gothic death-themed creations". Entering their online store is like stepping back to a time when science was nearly synonymous with magic: when a few leaches and a mixture of alcohol, opium and a little sugar cured all that ailed you. As you navigate through the endless, eerie categories, you'll be greeted with circus freak shows, folklore creatures of the night, southern Gothic, traveling medicine shows and archaic Victorian funeral practices. Sounds fun, doesn't it?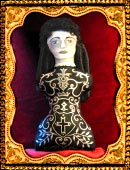 They offer "unique dark art", much of which is produced by Ashleigh Talbot herself. A skilled pen-and-ink illustrator, she creates such wondrous art as tombstone paintings mourning dolls, and creepy Victorian posters. To add to the period-perfect mystique of these one of a kind items, Talbot does everything by hand, without the use of computers or a sewing machine. Now that's dedication. Her sophisticated art style paired with the bizarre and ghoulish topics is our favorite mix for spooky decor. Like haunted portraits, it gives a more subtle, yet extremely creepy vibe that most Halloween/horror themed decor and art just don't have.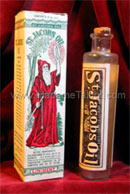 There is also a selection of vintage items that would be equally great for grim room decor or as props for your Halloween haunt. Our favorite from this section is definitely the poison bottles, some of which are still full!
Whether you're looking for nightmarish inspiration or want to go vintage Halloween this October, you can do no better than Madame Talbot's. Step right up, and tell em' 365 Halloween sent you.