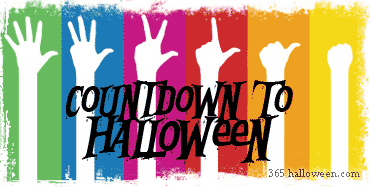 Congratulations, Halloweenies: you've made it to the 99 day mark in the 2007 countdown to Halloween. Like your high school woodshop teacher, we've just unceremoniously dropped a digit, but in this case it's cause for celebration. Just 3-ish more months until everything comes in shades of orange and black, scary movies are playing on every channel, and you can finally shed your 9-to-5 gear for that badass costume you've been working on for weeks. Good times!
We've been planning for the 2007 all year, and are getting really close to unveiling our new site design and this year's theme as well as a casketful of articles. If you'd like to be alerted when we unearth everything, just subscribe to our feed. Also, 365 Halloween just moved over to a new server in preparation for everything, so if you see any broken stuff please shoot us an e-mail so we can resurrect it.
Now would also be a good time to send in submissions if you'd like to see your Halloween-related website, book, art, event, music, haunt, whatever featured on 365Halloween.com. We've got a lot planned for this year, and although we'd like to feature absolutely everything we find, there's only 2 official staff members here so guest writers are really encouraged.
Autumn will be here before you know it, so enjoy the rest of your summer while it lasts!