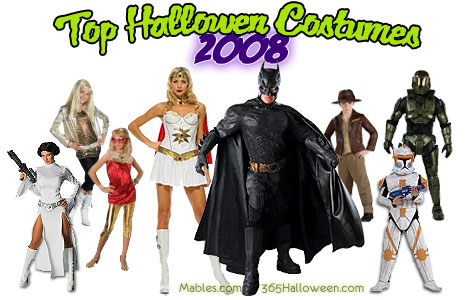 It's finally here: our list of the hottest costumes for this Halloween season! We're always one of the last Halloween websites to publish our Top Costumes list because we factor in a few more details that take time. You've probably noticed on a lot of these lists that the choices can seem pretty random. I mean Bacon and Eggs as the "hottest couple costume"? Poodle Skirt Girl as the most popular women's costume? What the heck?
It's been our experience that many of these lists are full of the worst sellers from last year and retailers are hoping to get that old stock sold quickly by labeling it a "top costume". Other lists go just for the obvious choices like characters from blockbuster movies. Neither are very helpful when you're looking for a great costume idea or are just really curious about trend forecasting. We've spent the last couple months gathering info from actual top selling costume sales reports, online communities, all sorts of articles, and of course our extra special Halloweenie senses. It's been a lot of work, but tons of fun! So we present to you our super awesome picks for the 2008 Top Halloween Costumes. We hope it gives you tons of great costume ideas. Enjoy!

PS- For new visitors to 365 Halloween, yes, Mables.com is our other website. If you make a costume purchase through a link on Mables.com, you're supporting 365Hallowen.com. Thanks for your help to keep these sites up and running!