Let me guess. You've been spending your summer vacation making gory Halloween props and really accurate vintage Halloween decorations. Wait, that's Sleepy Hallow Props and Dead Tree Halloween, respectively. These creative Halloween lovers let us know that their eBay stores are already in full swing. Check out their creepy offerings…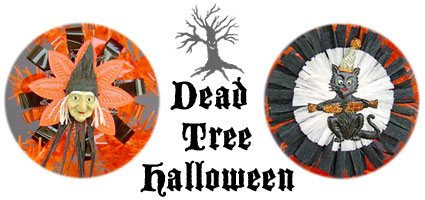 Canada based Dead Tree Halloween hand makes each of their vintage inspired Halloween decorations. But they also go the extra mile by incorporating vintage design elements and materials into the ornaments:
"All of our ornaments are handcrafted in our studio using materials that would have been available in the 1920's & 30's, or as close to it as possible. We also incorporate as much actual vintage material as we can find. All of our Dresdens are made by a company in Germany that has been producing them since 1861. The company still used the same machinery and the same dies to stamp them so are they actually reproductions or are they 'vintage'? Hmmmm… good question. Most of our plaster items are made using antique or vintage candy molds, some of the molds we have made ourselves. All of our designs are original and we get our ideas from actual vintage Halloween items, old magazines, catalogs and the like."
There are so many "vintage inspired" items out there that are just so garish because the manufacturers don't seem to care about those kinds of details. It's nice to see an artisan take pride in such accurate reproductions. Soon they will be adding a bunch more designs such as garlands and tree toppers so be sure to add them to your favorite sellers to stay updated.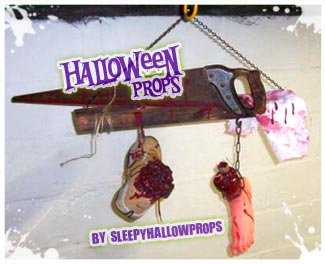 If you're a regular here, you might remember Sleepy Hallow Props from last year. We're glad to see that Erik is back making his quality homemade props again this season. Because what's Halloween without a bucket of bloody guts or a killer butcher's meat hanger?
Do you sell your Halloween themed goods online? Know of a great Halloween e-store that we should feature? Get in touch!