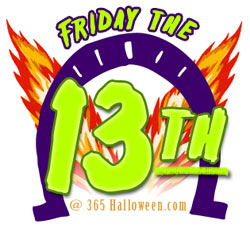 Happy Friday the 13th, Halloween fiends! This is indeed the final Friday the 13th before Halloween so – depending on your interpretation of the phenomenon – make the most of this lucky/unlucky day. In April of 2007 we explored the history and some of the affects that this spooky day has wrought over the years. Today we'll see if anything truly notable has happened on a Friday the 13th… and watch for any mayhem that might occur today.
According to Wikipedia, there have been some pretty black events that support the idea that it's an "unlucky" day: from fire to plane crashes to a hurricane, and even the death of Tupac. I scoured the Internet and couldn't find more than that handful of "notable" unlucky events though.
Do you think that indicates a trend, that it really is an unlucky day? Or is it just coincidence? For my money, it's just another day that will turn out as spooky or as awesome as I want it to be. (And maybe an excuse to see The Happening.) What do you think?
And congrats to our In Case of Zombies contest winners! There were so many good entries that we gave away more prizes than we originally announced. Thanks to everyone who participated!