Solanum Integrifolium is the Latin name for what is sometimes known as the Pumpkin Tree*. The nickname couldn't be more appropriate; just look at those beautiful little "pumpkins"! Cuttings from this plant make gorgeous decor items for Autumn or Halloween and can be used in centerpieces, as ornaments on a Halloween tree, or on their own.
I've been seeing these for sale a lot recently at places like Trader Joes, farmers markets, and a few grocery stores. When I did a little research about them I found out why: San Diego County (where we are located) is where most of them are grown, due to the mild desert climate. Cut branches, adorned with the bright orange faux pumpkins, are becoming popular in fall flower arrangements, so you might be able to find them at a florist if you are not in southern California.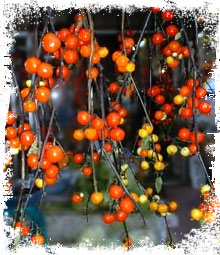 Like the Latin name suggests, the Pumpkin Tree is a member of the solanum family, which includes the likes of potatoes and eggplants. As you might infer, this means the little pumpkin shaped fruits are quite different inside than their namesake. Inside it resembles a pepper, with loose seeds and a mild peppery taste. However, westerners tend not to like the flavor and prefer to use it ornamentally. In Asian cooking, the tiny "pumpkin" peppers are more popular.
I tried to find an online retailer of the Pumpkin Tree, but came up empty handed. Seeds are available, but no mature plants or cuttings. If you know where to buy Pumpkin Trees online, please let us know in the comments!
*Other names this plant is known by are Chinese scarlet eggplant, Japanese golden eggs, ruffled tomato and tomato eggplant