Hosting a spooky Halloween party this year? Or just want to redecorate the living room for a while? Try these inexpensive and easy to apply covers and wall clings over your everyday furniture to spook the place up. This Torture Coffin Sofa Cover is made of cotton and polyester blend and not only freaks people out, but makes it easy to clean up all the crumbs your ghostly guests leave behind. Personally, I'd drape this over my sofa at least once a month just to get a new look on things.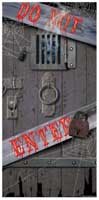 Let your costumed guests know that the fun starts at the door with this Haunted Halloween Door Cover. Send chills down their spines as they reach to open the door labeled Do Not Enter with blood and have to squeeze the vein-y texture of this rubber eyeball to get in.
Send a message to your ghoulish friends and bring together the tortured skeletons look by adding these Creepy Jail Wall Clings behind your Torture Coffin Sofa Cover. Each wall cling is 33.5″ wide x 65.5″ long and the sofa cover fits 74″ – 96″ sofas. All this and more at BuyCostumes' new for 2006 Halloween Decorations section.