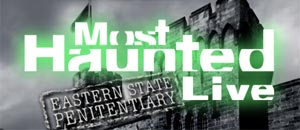 If you're a fan of the paranormal, you're going to want to carve out about 7 hours tomorrow to watch Most Haunted Live. Broadcast on the Travel Channel from 8PM EST on Friday, June 1, through 3 AM on Saturday, June 2, the MHL crew will be taking over Eastern State Penitentiary (or E.S.P.). The event will also be extended to the Internet, with multiple streaming webcams located within areas of the ESP.
This is their first US visit (as the show usually takes place in the UK), and they've chosen their location wisely. The visually stunning Eastern State Penitentiary in Philadelphia, PA, is considered one of America's most haunted places, and has a dark and controversial history. It also hosts "Terror Behind The Walls", one of America's best loved, most terrifying, Halloween Haunts. (With all profits going towards preservation of the Prison. How cool is that?)
If the show gets you eager to see some real ghosts, there are plenty of Real Haunts located throughout the US. Happy ghost hunting!