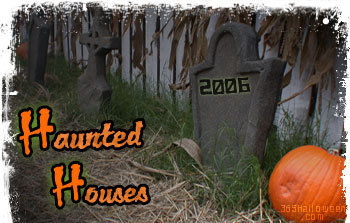 Haunted house season is officially upon us. September 29th marks the opening of many haunted attractions nationwide, which is kind of like marking off the first day of an advent calendar. Last week some of the major retailers were still scrambling to finish their Halloween displays, but now haunted houses are everywhere and there's only one day left in September. It's getting so very close…
If you're planning on visiting a local haunted attraction or event, we want to hear about your trip! Bring your digital camera and write about your experience. Were the monsters top-notch? How long was the wait in line? Did you see any innovative props or especially creepy scenes? Was it worth the drive, the time, and the money? Let others know by submitting your story to 365 Halloween. If you would like to suggest a specific haunt to be reviewed, leave your suggestions in the comment form below and we'll try to get someone in that area to check it out.
Our tour of local haunts will begin the first week of October, and the reviews will be up the day after each trip. If you have a professional or home haunt in the southern California area that you want featured on 365 Halloween, contact us with details.
PS- Another bonus for attending Halloween events? Great photo opportunities. The above photo was taken by Sean at a local pumpkin patch in 2005.