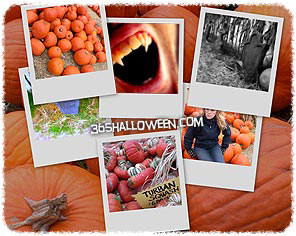 September 1st is a beautiful day. Some welcome the great respite of Back to School or look forward to Fall or Labor Day partying, but for a select group of Halloweenies it means something else. As our friends at Ghost Droppings so eloquently said: "With the days of August now dead, we usher in the month of September. September is the month where hidden things begin to stir in their dark places. It is the month where Autumn more fully rears its head before the sun. It is a time where our Halloween activities become more focused and obsessive. September is that time before the month of months with the day of days, Halloween."
In the US, Halloween is the 2nd most popular holiday, but around here it's THE holiday. We wait anxiously all year for the chance to put together fantastic costumes, watch endless stretches of spooky movies, carve our Zombie Pumpkin stencils, go to haunted houses, see the new retail offerings, visit pumpkin patches, make freaky themed food, and generally just roll around in the cool, dark feeling of the season.
In this spirit, today kicks off our Halloween Countdown at the 365 Halloween blog. We will be blogging about Halloween topics everyday until October 31st. We've been working hard on our Halloween Costumes section at Mable's, but have lots more spooky spirit left over. If you enjoy this deliciously dark "holiday of holidays", be sure to subscribe to our Halloween RSS feed for a daily dose of the good stuff.