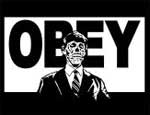 Looking for more original horror t-shirts to add to your collection? Fright-Rags has a good selection of well designed horror shirts of your favorite cult classics, creature features and slasher movies. These shirts are exclusive to Fright-Rags so you can't get them anywhere else.

Being a huge zombie fan, I was initially drawn to the Obey (zombies make great social commentary) and Johnny shirt that says the classic line "They're coming to get you Barbara!" Oh how right Johnny was. I also admire the simplicity of design on everyone's cult favorite Ash (from Evil Dead), and Frankenstein.

I'm also really liking the Trick or Treat design based on looks alone. I have to admit I didn't even know what movie it was from until I looked it up. It's from a 1986 flick entitled Trick or Treat, that is "meant to be a parody of teen-horror-devil-worship movies". The looks of this shirt, the rock and roll star cameos, the user comments, and description of the movie all tell me I've got to rent this soon.
Also worth checking out: Your Zombie Cafe Press store. Tons of Shaun of the Dead designs, and other zombie related shirts.