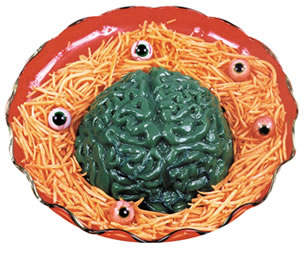 While this may not be the healthiest recipe, it's certainly not a sweet one and it is definitely in the spirit.
I took a simple chicken liver pate recipe and added some flare as described below. For those on strict vegan diets, a simple gelatin with the appropriate food coloring can be substituted.
All you need is some trimmed chicken livers (1 lb) some cream cheese (4 oz), here I substituted the rest of the cream cheese with thick Greek style yogurt but you could leave that out and use the remaining 4 oz of cream cheese. You will also need some sherry or port wine and garlic. You will also need a brain shaped mold as sold here
While making the pate I sprayed the clean mold with cooking spray and put it in he freezer.
Start by cooking your livers in butter (or olive oil) and garlic. Once cooked, add them to your food processor with the yogurt/cream cheese and blend till mostly smooth. Then add some salt, spices and port to taste. After it tastes perfect add a little black food coloring to give it that gray matter look.
Take a small amount of your pate mixture and put it into a small zip baggy and add a few drops of red food coloring. Remove your mold from the freezer and start piping veins onto the peaks in the mold. set in freezer for another five minutes or so. Once the veins have set you can add your pate to the mold and let chill in the fridge until party time.
I found a skull shaped cookie jar to present mine but a silver tray with a bed of greens would be nice too! You now should have a treat, fit for the undead! Happy Haunting!
Recipe courtesy of 365Halloween.com member "Niki"