Three Midnight Syndicate CDs make AOL Radio's Top 10 Halloween Music CDs of all-time.
AOL Radio has just released a list of the Top 10 Best Halloween Music CDs as ranked by AOL/CBS Radio listeners. In the company of such greats as The Exorcist soundtrack and Rob Zombie, three of the ten CDs were Midnight Syndicate discs (Born of the Night #8, Realm of Shadows #4, and Vampyre #3), ranking only behind Danny Elfman's Nightmare Before Christmas and John Carpenter's classic Halloween soundtrack.
Vampyre and Out of the Darkness (a collection of the best music from Born and Realm) are currently available at your local Halloween retailer – see below!
Midnight Syndicate CDs in stores nationwide this Halloween season!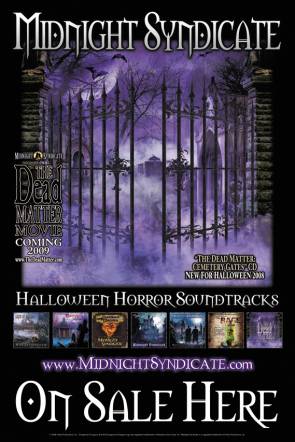 Midnight Syndicate and Van Helsing's Curse CDs are now available at your local Halloween retailer. To find the store nearest you, visit our Store Locator or shop online at the Midnight Syndicate Store.