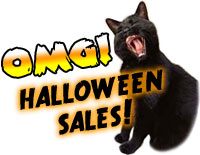 As Halloween approaches the deals get even better, but beware, because costumes do sell out! Here are some of the latest deals;
Fright Catalog Monster Costume Clearance – Get up to 60% off select costumes. Also remember to use code SPOOKY07 to get 10% off orders $90+
BuyCostumes – Get 99 cent shipping (on orders $60+) plus guaranteed Halloween delivery. See their shipping chart to make sure you order in time for Halloween.
Costume Craze – Use coupon code LNTEN to get 10% off
Be sure to see our previous post about Halloween discounts and Halloween store coupons. Some of those devilish deals are still in effect. Better yet, subscribe to our Halloween Sales RSS Feed and be the first to know. If you know of any other Halloween sales, drop a comment with the details.