Fright-Rags was created for one simple reason: the owner, Ben, wanted cool looking horror shirts! He started in September of 2003 and up until that point there weren't too many shirts out there that impressed him. Of the ones he did like, everyone seemed to be wearing them. What's a horror hound to do? "As a way to let off some creative steam, I started working on my own ideas and posted them on various forums I was a part of to see what people thought of them. Well, apparently I wasn't the only one that wanted something different as many others liked what I was showing. Based on that alone I ordered my first three designs with money I didn't have (i.e. credit card) and spent Labor Day weekend designing and building the first ever Fright-Rags site and hoped for the best…"
It was a good gamble because 5 years later Fright Rags designs have been sold through out the world and there are are several new creative team members helping design, print, and program. But some things never change. Ben still fills all the orders and answers all of your emails, and he's remaining true to his original focus: "To create the best horror shirts I can… no matter what."
Here's your chance to win one of these amazingly designed shirts. Flex those scary movie buff muscles and identify which movies are being shown in the 3 screencaps below.
The contest runs from October 9th – October 13th, 2008 at midnight PST. 2 winners will each get their choice of shirt.
BONUS: Get 10% off your order at Fright Rags from now until Halloween using coupon code 365HALLOW!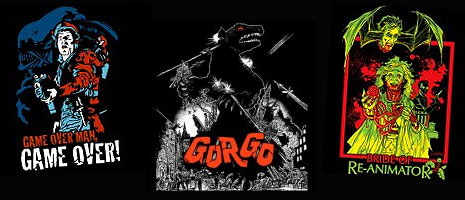 Name These 3 Scary Movies: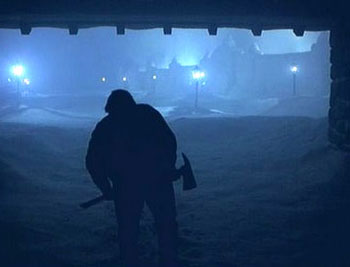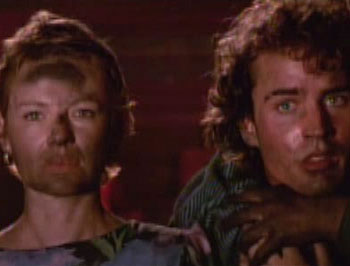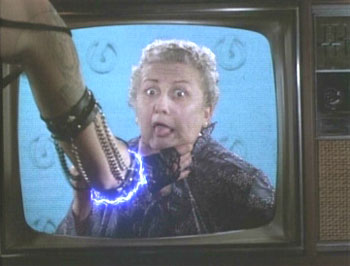 Send your answers to

by October 13, 2008 before midnight PST. If you're really stuck, here's a hint: you can find each of these movies reviewed on our Top Scary Movies page.
Open to US residents 18 and older. Shirt choice can be any style listed in the "Horror T-Shirts" section of Fright Rags (this excludes the Vintage Horror Shirts). One entry per person. 2 winners will be chosen at random from all entries who correctly identify the 3 scary movie screencaps.