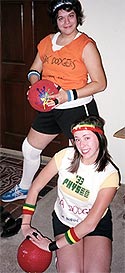 I'm not going to mention anything worn in the movie Dodgeball. Jerseys and tracksuits aren't funny, and a dodgeball costume is built for laughs. This style of retro attire is more akin to the late 70's, early 80's rollerskater. For both men and women it's going to be about the same:
tight t-shirt
short shorts
striped knee socks
sneakers
sweatbands
a dodgeball
For the best shirt possible, put your fake team's name on there with a marker or using iron-on paper and your printer. If you're going as a group of dodgeballers, opt for printed shirts from services like Spreadshirt (who offers glow in the dark ink). Plain t-shirts are good, and raglan sleeve shirts are better. For shorts, don't be afraid of spandex if you've got it!
This is a free wheeling kind of costume that improves in proportion to how ridiculous you're willing to make it. It's a scientific fact, so go nuts with this costume. Optionally, you can add a windbreaker (which is a good idea since this costume can be chilly in late October), fake mustache for the guys and a high sideways ponytail for the gals. Dodgeball can be a dangerous sport, so why not add an oozing wound or black eye? (Just get an "injury stack" makeup kit or a general makeup kit that contains one.)
Did you make a dodgeball costume? Did you find useful pictures or tutorials online? Please contribute your findings in the comment section below.
BONUS: Throughout October use coupon code FALL18 to get 20% off your order at Spreadshirt.