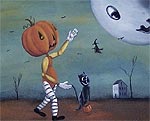 Etsy is the handmade little sister to eBay, and around fall the selection of DIY goodies takes on a decidedly darker tone. Think of the transformation that Martha Stewart undergoes during October; less kountry kitchen and more haunted house. There's always a small availability of spooky items year-round, but right now Etsy is brimming with them. Artists like Nanny Norton stock their shops with handmade items like the art print entitled "Father and Son Pumpkin Under the Harvest Moon". More unconventional mediums such as felt are utilized by Beesocks in creating decorative pieces like Mr and Mrs Frank N Stein Felt People. The site is really a mixed bag, and aside from the criteria of everything being handmade, you're never sure what you'll find when searching for Halloween themed items.

Charlie the Halloween Ghost Art Doll made by artfreak is 8.5″ tall and could make a great centerpiece for your mantle, Halloween village, or other holiday display. He joins other Halloween dolls like FrankenLobster and the creepy-cute cats and bats from blacklilypie. But Etsy artists create more Halloween decor than just dolls; Allen Kaperak bottles Disembodied Tongues, Trollflings creates mini Halloween trees and cyclops pumpkin pins, mirrorgirl makes coasters from vintage Halloween ephemera, and Sneddonia creates intricate spiderwebs and luminaries from copper.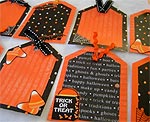 If you'll be attending or throwing any parties where there will be gift or candy bags, Nycole's set of Halloween gift tags will be the memorable finishing touch. Just like your guests, each one is a little different. If you want something cute for you and your little monsters to wear during the season, check out the bat print bibs by Chenille Boutique.