Other than the Attack
Alligator Prop
that I mentioned a few days ago, a house full of haunted portraits are top on my list of Halloween props to get when I'm rich. Unlike the alligator, lenticular portraits don't go for obvious shock, but instead create an eerie mood. Guests in your haunted home will have time to look at the pictures from a distance and perhaps shiver a bit when they realize they are surrounded by creepy old paintings. As they begin to approach, a distinct change occurs within the frame, and the eerie mood culminates with a shock as your visitors realise there is more to the portrait than they first assumed. It's a more sophisticated way to scare people than just using gore, as it takes time to absorb the full scene, which totally messes with their minds.
There are a few artists creating image-changing haunted portraits, but since I know I'm not the only one on a budget, I'll begin with the most affordable of the lot. Morbid Industries makes a long line of creepy pictures, suitably called Gortraits (shown at left). Their "after" images are the most graphic so if you're looking for the biggest shock factor, these are the portraits you want. These are set apart from the competition in that they are the only portraits to include a frame, and these frames are actually really cool. They are ornate and often in very unique shapes that add a lot to the portrait, even though the quality is in line with the price point. Both SpiritHalloween.com
and BuyCostumes.com
sell them for about $17-$30 depending on print size, but their selections are different so check out both stores for a full selection.
Eddie Allen's work was the first set of haunted portraits I had seen in person. (There are many of his pictures shown at the Bay Theatre in Seal Beach if you're in So. Cal.) His changing portraits are perhaps the most widely recognized of all artists, and in my opinion, the funnest. His choice of changes often include wiley eyes, and funny (yet horrible) facial expressions. There are some limited edition prints, including Terrible Timmy, the evil clown. His smallest prints are 5″x7″ for $15, and the largest 16″x20″ prints costs $100. Eddie sells directly through his website, which is the best deal, but you can also purchase from Gorey Details.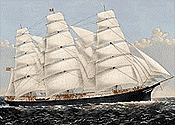 Like Eddie, Norm Lanier is also from southern California and has a penchant for Disney's Haunted Mansion. In addition to offering free blueprints of the Mansion for download, he has also created a portrait called The Phantom Ship, which was inspired by the ride. His work is the most varied with images that are subtle or graphic, horrifying or silly. Norm also takes commissions for custom Ghost Portraits where anyone can pop in and out of a portrait just like a ghost. His smallest prints are 5″x7″ for $15, and the largest 18″x24″ prints costs $135, all available directly through his site.
Tim Turner also offers a "spooktacular selection of deliciously evil changing portraits" from his site The Ghoulish Gallery. They're a little easier on the wallet, ranging from $50 to $75. I feel as though I'd be beating a dead horse if I mentioned where he was located or what Disney attraction also inspired him, so I'll skip that part. Tim has worked in the entertainment industry for over 24 years making monsters so if there was a way to determine qualifications for making horror themed lenticular portraits, he would be considered "dang qualified."
Or if you've got the time and inclination, you could always make your own haunted portrait. Just don't get one of those pirate or witch portraits that are new this year and available at Target or Buy Costumes. I've seen them in person and they're far more sad than scary. Patronize a real artist and purchase from one of the fine stores mentioned above.