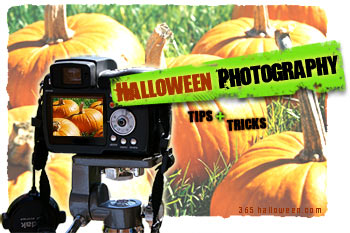 With only 13 days until Halloween left, it's time to brush up on your photography skills so you can artfully capture your memories of the big night. After all the preparation you've done with decor and costumes, you're going to want to document it all on film (or your memory stick). It's easy to end up with Halloween photos that are overexposed, monotonous, or just plain unattractive to the eye. Using a few easy design and photography techniques, you can make sure that your photos are well-lit and "draw the eye".
Use the Rule of Thirds– Place the main subject or points of interest off-center to achieve striking composition.

Learn to shoot in low light

– Don't rely on a flash, which is often times too harsh for pictures that are taken at night or in otherwise very low light. You can utilize higher film speeds/ISO, slower shutter speeds, and varied lens aperture/f-stops to achieve well-lit shots. Using a tripod when taking long exposures will help prevent camera shake and blurred images.

Diffuse your flash

– There are times when you simply must have additional lighting. You can soften the light from your camera's flash by placing a DIY diffuser in front of it. Try using any of the following: women's nylon stockings, a square cut from a translucent juice or milk jug, scarf or other very thin piece of material, tissue paper, cellophane, or frosted disposable cups (like Dixie brand).
For more detailed tricks, the New York Institute of Photography has an excellent article that addresses specifics like photographing trick-or-treaters and Jack-o-Lanterns. For a shorter read and more general tips, Digicam Help offers 8 Tips to Keep in Mind for Halloween.