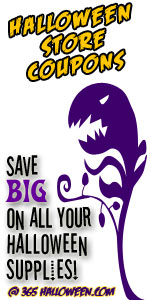 Did you know that Monday and Tuesday are the biggest days of the week for online costume sales? Maybe it has to do with post-weekend day dreaming… "I was just thinking about what to be for Halloween over the weekend. Damn Mondays. How about I put this TPS report away and look at costumes online".
If you're feeling that post-weekend Halloween itch then be sure to grab one of these coupon codes first. These are all good for the entire season so there's no rush. Check back for the really good limited-time sales which will probably start showing up in early October. If you know of any Halloween-related sales or coupons (either online or at a retail store) please share them in the comments.
UPDATE: Here's a new time-sensitive offer from Buy Costumes: Get 10% off your order with code HAUNT10. You can also get free shipping on orders $60+, and no coupon is required. Expires October 1, 2007.