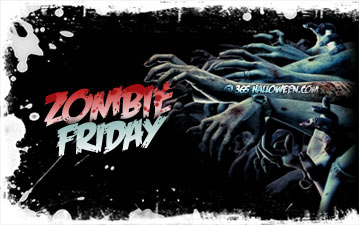 In honor of Resident Evil: Extinction hitting theatres, I declare today Zombie Friday. Since truly cool zombie news doesn't happen every week this will probably be a bi-weekly feature, but we'll see. If you have any zombie goodies to recommend for the next Zombie Friday, shoot me an e-mail (And do aim for the head… Zing!)
So you've just watched Extinction and you're hungering for more zombie viewing? Visit Zombie Cinema and you can watch 70+ zombie movies and shorts. They're all free and in the public domain so you don't have to worry about the MPAA knocking on your door. Talk about flesh hungry ghouls…
If you've never listened to Pseudopod, an amazing horror fiction podcast, be sure to poke through their archives. Their topics span all corners of the horror genre, but there are a couple great zombie stories. I can't stress how much you need to listen to Stockholm Syndrome; it's creepy zombie fiction at its finest. Big Boy is also a good listen.
For more undead aural pleasure, Darker Projects has 2 great offerings. For a quick dose of horror there's 5 Minute Fears, a collection of horror flash fiction. Several of the uber short stories are pretty unique and will suck you in, with topics ranging from evil clowns to the demon within. There is also an excellent audio version of the first book in David Moody's zombie series called Autumn. The story itself is a lot of great setup but without much delivery at the end, however the reading at Darker Projects just about makes up for it. If you'd like to spend the weekend with your arm hairs standing at attention, Autumn makes a good companion.
Know of a website that zombie fans would devour? Tell us about your online zombie viewing or listening finds in the comments below.