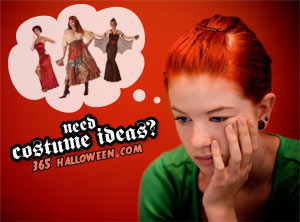 Welcome to October! Less than 30 days to get all your Halloween plans together, including choosing a killer costume. If you're still unsure what to dress up as, I've got a roundup of links that are sure to get your creative juices flowing.
Not sure where to start? The best tip I know of is to choose a Halloween costume that you're genuinely interested in becoming. If you spend your days dreaming about how badass ninjas are, then be a ninja! If you really like a character from a movie or comic, become him or her for Halloween. For all you mavericks out there who want to do something truly original, dream up your own character. Feel free to borrow from any themes that appeal to you, whether they will "make sense" to other people or not. Grab a wig, a loud jacket, some face paint, and be who/whatever you desire. That's the magic of Halloween, kiddies.
And now onto the costume idea sites. If you know of a website with inspiring costume ideas, leave us a comment.
Photo by Georgios Wollbrecht