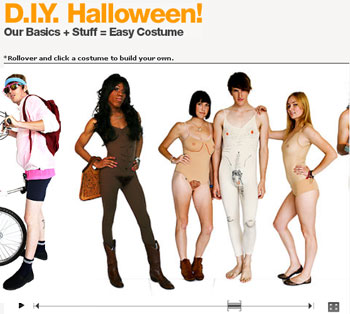 Still deciding what to be for Halloween? Let's see what ideas the Internet has so kindly assembled for us. First stop is American Apparel, the Los Angeles based manufacturer of tons of fair labor clothing items. Their super simple, single color clothes are perfect for creating costumes from. Seen to the left are the "nudist colony" group costume idea and a hipster "cyclist". There's a handy Flash based viewer on their site with several more costume ideas based from their clothing line, but you can easily use stuff from your own closet.
AA is also holding a DIY Halloween Costume Contest. Win $100 store credit with your own homemade costume or just rate all of the photo submissions.
Another fantastic resource is Polyvore. The site "lets you mix and match images from anywhere on the web" to create a digital collage graphic. Using this great feature they been posting lots of creative costume ideas on their blog. Here are a few highlights; vintage-modern vampire, Jem, modern Snow White, and DC comic Catwoman.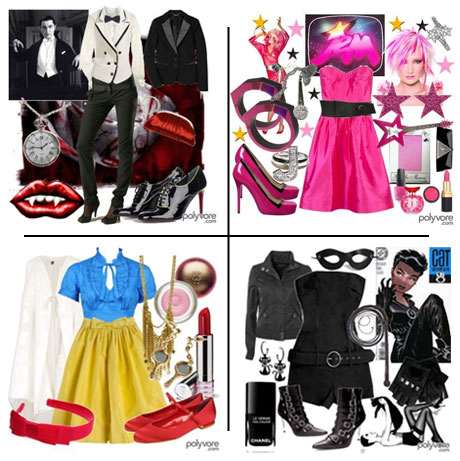 It's mostly women's costume ideas, but you'll find a few good men's costumes as well. Polyvore's blog is one of my favorite sites right now for gathering costume ideas because of the incredible variety and unique takes on classic costume ideas. Definitely worth going through all their posts.
And if you just don't feel like making a homemade costume, use the coupon below to get 10% off at Buy Costumes (plus free shipping on orders $65+)