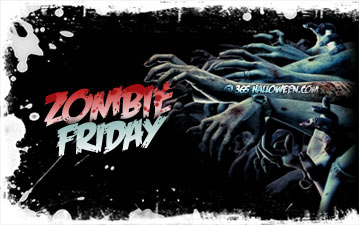 It's been a while since the last Zombie Friday, but I've got a handful of news that will satiate your hunger for the undead. Spanning film, design, zombie walks and more, it's been a good week for zombie fans…



First up is an incredibly useful roundup of Photoshop tutorials for those of us with a darker artistic sense. 70 Horror, Blood and Gore Photoshop Effects and Brushes covers everything you'll need to know to transform even the prettiest of photos into a decaying mess… but in a good way.
If you've been following the progress of George A. Romero's latest zombie movie, you know that a release date for Diary of the Dead was uncertain until January. For a while it looked like it would be a direct to DVD release, but thankfully it will have a wide release on February 15, 2008. W00t! (As if that weren't enough, Zombie Honeymoon will also be playing on Showtime around the same time. Talk about a bloody Valentine's Day.)
There's a new entry into the world of niche social networking websites, and this one's actually useful. Crawl of the Dead has a section that lists Zombie Walks, allowing the undead hordes to better plan their attack. If you know of a local Walk/Crawl going on, please list it here. If you've never attended one, now you know where to look!
And because zombies and bad jokes were made for each other, I have a bit of cheesy humor for you, in Photoshop form: What do vegan zombies eat? LAWLS!!1
Know of a website that zombie fans would devour? Tell us about your online zombie finds in the comments below.