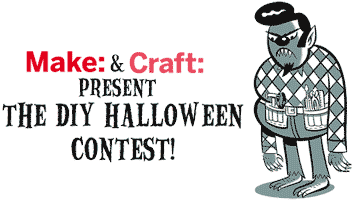 Halloween is a time for creativity; letting your imagination wander into the unexplored corners of your mind, the birth of new monsters, unleashing of ideas long since bottled… Sometimes the end result is reward enough, but you know what makes it even sweeter? Recognition. When you finally get to wear the costume that took you 8 weeks to make, the cries of "What an amazing costume!" make it so worth it. And when your neighbors do a double take and have to peer closer at your handmade yard prop: that's one satisfying moment.
So if you haven't already started, now's the time to get cracking on your Halloween creations. When you've finally finished, enter them into the MAKE/CRAFT DIY Halloween Contest. Just upload your pictures to their DIY HALLOWEEN photo pool at Flickr by November 4th and your homemade masterpiece is in the running. What are the categories, you ask?
Hack-o'-Lantern contest: Decorate a pumpkin any way you see fit, or unfit.
Costume contest: Dressing up? Making your own costume? Any costume with homemade elements on it, in it, or used with it is OK.
Decorations, Haunted house, gadgets, and more contest: Decorations at home, work, wherever, a haunted house, lawn gadgets, anything Halloweeny.
Food contest: The grosser the better.
If you need some inspiration but don't plan on entering the contest, the Flickr pool promises to be a nearly endless supply of creative ideas. Last year there were thousands of entries, and if you submit yours, this year will be that much cooler.